-XBT- Windows 7 Ultimate x64 Everplex Edition
Type:

Size:

2.35 GB

Tag(s):

Uploaded:

2012-07-05 22:05:54 GMT

By:

Seeders:

0

Leechers:

1

Comments

5

Info Hash:

82b761576a5ef70e3a23447b741f705f0f5246ea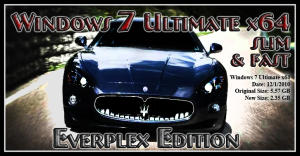 -XBT- Windows 7 Ultimate x64 Everplex Edition


ABOUT:

Backup Your Data!

BACKUP EVERYTHING BEFORE REINSTALLING WINDOWS! You should always 
be doing this anyways. A 500GB external hard drive is like $50 to 
$80, it's cheap! Buy one, it's more than worth it if you have valuable 
data, it is mandatory for owning a computer!


On Cracks/Keygens...

There is no keygen, or crack, or anything like that in here! This is just a 
much slimmer, faster version of Windows 7 Ultimate x64, made from the original 
DVD. This is intended only to replace a current Windows 7 Ultimate x64. You 
can use the same key. It will upgrade any version of Windows, though; you'll 
just need a Windows 7 Ultimate x64 key.


About Drivers...

If wireless drivers do not automatically install, you may need to go online on 
a different computer and download them and copy them to your computer using 
external storage. Alternatively, download your wireless drivers BEFORE 
reinstalling Windows, and save it on external media.


No 32-bit!

This is 64-bit (x64) and does NOT include the 32-bit (x86) version. If you 
have an older computer without the ability to install a 64-bit operating 
system, then this is not for you.


BACKGROUND INFO

I have spent countless hours helping make peoples computers faster, and the 
most time-consuming initial thing I do is disable all of the useless services 
that either is not used (i.e. Telephony), or that is not compatible with the 
person's computer (i.e. Tablet PC). You should notice remarkable performance 
increases with this distribution.

In this release, I removed many useless things, but left a good number of 
things intact, only tweaking the services to disable them on install. That 
way, if a user needs to use something in the future (i.e. Telephony is 
required for Remote Desktop, so removing it would remove that functionality; 
and Remote Desktop is required for watching TV through Windows Media Center, 
so removing either Telephony or Remote Desktop [among a number of other 
services] would remove the ability to watch TV online through Windows Media 
Center - actually a number of services were left and merely disabled for the 
sole purpose of allowing the possibility of Windows Media Center Online TV).


MORE NOTES

This is 64-bit and does not include the 32-bit version. 

Windows 7 Ultimate x64 Everplex Slim and Fast

This is only intended to replace a current version of Windows 7 Ultimate x64. 
It will upgrade any version of Windows, though; you'll just need a key. By all 
means, if possible, do a clean install! Clean installs are always best for 
reinstallation of a Windows operating system.

Enjoy!!


INSTRUCTIONS:

Burn .ISO to DVD.
Boot it.

Remember to back up your 64-bit wireless driver before reinstalling! That way you can get online to get any other drivers you might need to install.


FAQ:

Q: Getting a boot.wim or flag 9 error?
A: YOU CANNOT INSTALL THIS FROM WINDOWS. You have to Burn To Disc to install, and Boot Into The CD.
Files: